Packaging is an important aspect of marketing that should be implemented effectively if you want your product to be popular or good quality, then you have to make sure that you package it in a way that can attract people to buy it.
Packaging should be done in a way that can be easily understood by people. In order for consumers to understand the product the packaging should be attractive and easy to use and also they should be able to understand the main features of the product just by looking at the packaging because the way a product is packaged can make or break a sale. In this article, we will discuss what product packaging is all about, the different types of packaging and how they are used in marketing.
What Is Packaging?
Packaging is the act of enclosing or protecting the product using a container to aid its distribution, identification, storage, promotion, and usage, it also constitutes all the activities of designing and producing the container for a product.
In simple terms, packaging refers to designing and developing a wrapping material or container around a product that helps to promote and sell it. You should remember that the packaging of your product should give a good first impression to the customers. It should be able to make them feel that they are getting a good quality product.
Types Of Packaging
The packaging of a product is the first thing that a customer sees and It is what catches their eye and draws them in. The packaging needs to be attractive and interesting so that the customer will want to open it and take a closer look. There are many different types of packaging that can suit your business the which you can choose from, but some of the most common are: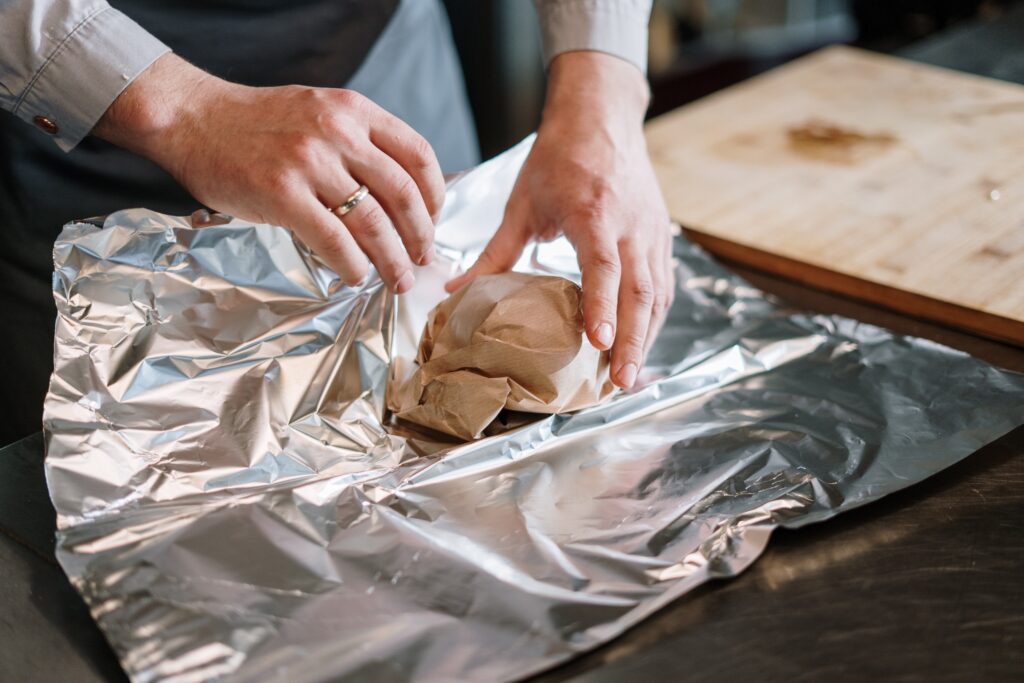 1. Paper Packaging
Paper packaging is the most common type of packaging and this type of packaging can be used to wrap your product and protect it. It is made of paper and this is made into a variety of shapes and sizes to suit different types of products.
2. Plastic Packaging
Plastic is another popular packaging material. It is lightweight and can be used to wrap a wide variety of products. Plastic packaging is available in many different colors and shapes.
3. Glass Packaging
Glass is a good form of protective packaging material that you can choose. This packaging material is transparent and can be used to protect a wide variety of products. The most common use of glass packaging is to protect a wine bottle which is placed inside a special box that has a neck with a cork, honey, food spices, and many more.
4. Metal Packaging
Metal is another type of packaging that is popular to protect and promote products. The most common use of metal packaging is for the packaging of food and beverages. Metal is used to protect the product from breaking or leaking during storage and transportation.
5. Cans Packaging
There are different types of cans that are used for packaging purposes. Cans are used to hold and protect different types of food. These cans are available in different sizes and curvatures. it could be in a rubber form or plastic. These cans are of various sizes and you can select the size that will suit your product.
Importance Of Packaging
The package is an important supply, storage, and promotion tool that the seller uses as a distribution, storage, and promotion tool; the customer uses it as an important identification and applied tool. Often considered an essential marketing subset, packaging forms the core distribution, storage, and sales tool that can be a part of the product itself or an external container made of varied materials but it holds different values for the buyers and the sellers.
Importance Of Packaging For The Seller
1. Distribution: Good packaging makes it possible for the seller to transport the product from the manufacturing unit to the final selling point and then to the customer. The seller uses different packaging for the different products but most times they all use the same means of transportation.
2. Storage: Warehousing comes with its own risks of product spoilage, spillage, and mishandling. Proper packaging helps the seller store and assort the products better without having much risk or reducing the damages to the bearest minimum.
3. Promotion: When a product is well-packaged it blows its own trumpet automatically. Packaging forms a vital marketing element that the brand uses to differentiate the product using attractive, colorful, and visually appealing packages and inform the buyer about the product's performance, features, and benefits.
4. Safety: The safety of the products are top priority to the seller so you must package your product in a protective way because good packaging aids in product safety before it reaches the final consumer. For example, a seal prevents the milk from getting spoilt before its expiry date.
Importance Of Packaging For The Buyer
1. Identification: Packaging and labeling help the customers identify the product and differentiate it from other products in the market as there are thousands of products out there in the market, therefore, packaging helps the product stand out.
2. Usage: Often packaging, like that of toothpaste, that forms a part of the product aids in its usage and consumption.
3. Safety: It also protects the consumer from the dangers that the product comes with. For example, an acid bottle protects the user from getting acid burns.
Related Article: Packaging mistakes you should avoid
Conclusion
Although as the saying goes, never judge a book by its cover, the same way you should never judge a product by its packaging which is why as a business owner, you must always consider using the right packaging for your product. Packaging will help you stand out from the crowd, promote your product and make it a success; Therefore choose what package works best for you. For further assistance contact us today and don't forget to subscribe to our mailing list for more articles to help you build your business and personal brand.